Paisley Counselling
Are you looking for a counsellor in Paisley? Someone to talk to, someone who will listen, someone who will help you on your journey to healing in your life? If this resonates with you then please call Paisley Counselling on 07534 375530.
There is a time in everyone's life, whether hurts from the past or problems we are currently facing, where we come to the end of our personal skills in handling things, and look to find some support. Support comes in a variety of ways, and can come from a number of sources, whether through family and friends. or also from professional help, like Paisley Counselling.
Here at Paisley Counselling we create a personal, caring, non judgemental space for you to share your thoughts. Kim Wylie is a trained counsellor in Paisley who is trained in a variety of counseling styles and different ways of helping people. Kim adjusts her counselling technique dependant on the client, and which technique works best for different counselling issues.
There are many different counselling issues. Everything from dealing with life's problems and stress, to other issues like dealing with  eating disorders, trauma, or sexual abuse. Relational problems, anxiety, or money worries, the list of life's hurts and concerns is a long one.
You may have concerns with one or more of these issues or  something completely different. Whatever are your needs if really does help to get things off your chest with a trained counsellor, like Kim Wylie, of Paisley Counselling.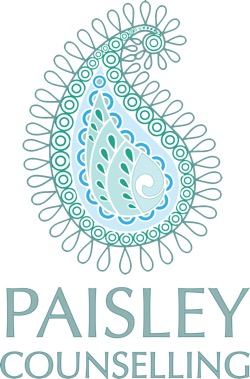 Call today to arrange an initial assessment of your needs and make the first steps to seeing emotional  healing.
You can find our offices at 35 Moss Street in Paisley, close to the town centre, and Paisley Gilmour Street train station.